The 6th Shanghai Get-together Writing Contest
2021-04-27
China, a warm and welcoming country...Where ancient civilization allows you to feel the charm of the East...while the tech of tomorrow gives you hope for the future of mankind. Shanghai, a city where everything is "readable". Where theaters, libraries, galleries and concert halls reflect the perfect mix of tradition and modernity. Where architecture, fine arts, music and coffee create the perfect blend of art and life. Friends of the world, if you love China and adore Shanghai, you're welcome to share your stories with us. Let us know if you rediscovered China and fell more in love with Shanghai this year.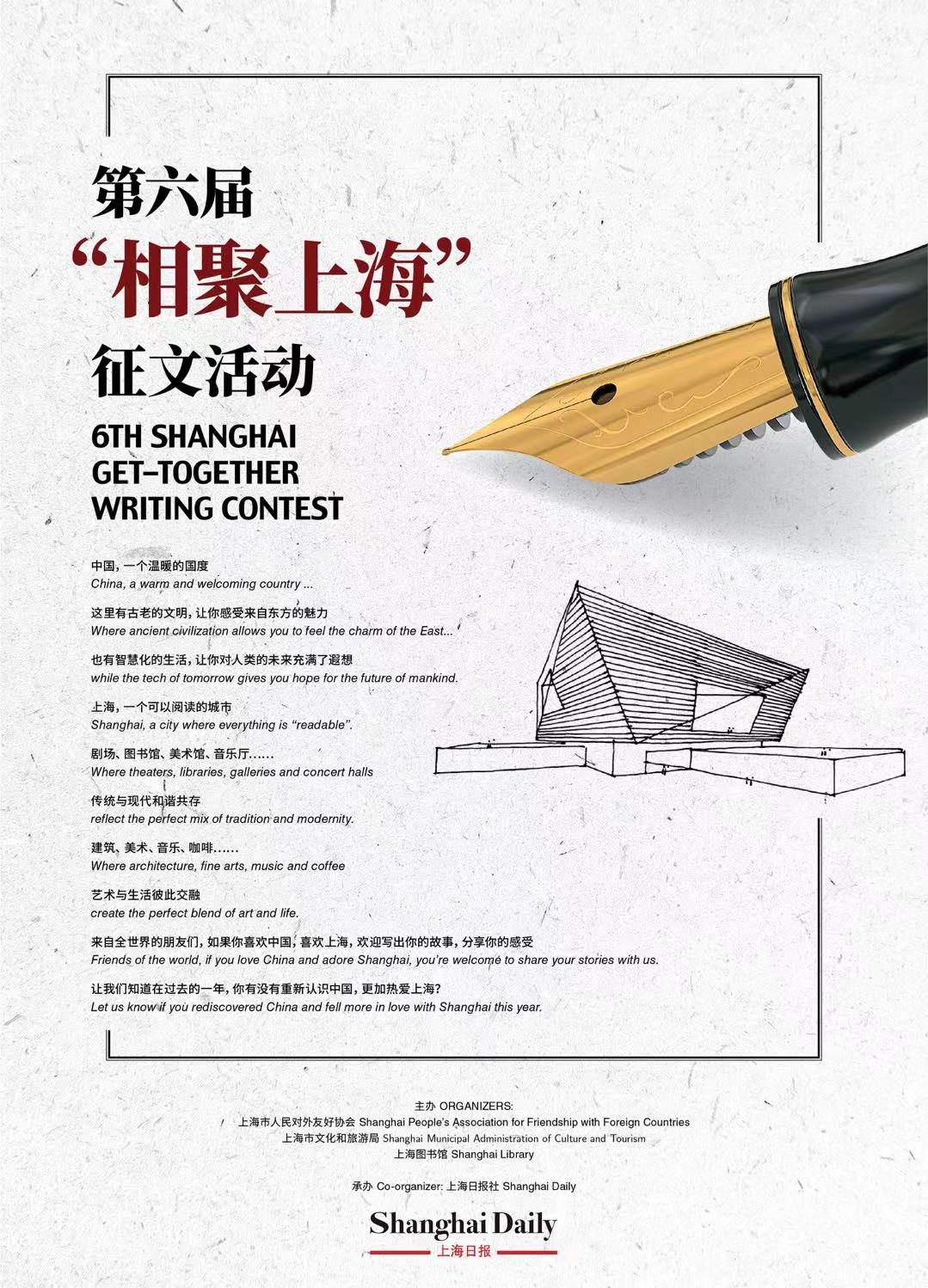 The 6th Shanghai Get-together Writing Contest
Entrance eligible for:
Foreigners living, working or traveling in Shanghai, China.

Contents:
Your work should be related to one or more of the following:
1.Your impression of the city of Shanghai, such as its architecture, people and style of life;
2.Your Shanghai story, whether you are an expat living there, or just a traveler;
3.How Shanghai affected you or changed your life; What you miss about Shanghai?
4.Your story about combating the coronavirus pandemic
5.Your views or comments on the "Window of China" or "Window of Shanghai" books or its related collections, exhibitions and events;
6.Your thoughts on Chinese culture and its influence on the world.

Note:
1.Writing in English or Chinese is preferred;
2.Each article should be no more than 2,000 Chinese characters, or 5,000 English words in length;
3.Only files in .doc, .docx or .txt formats will be accepted;
4.Entries should be received before December 31,2021 to writingcontest2021@163.com
5.By submitting your work, you are deemed to have confirmed that your submission to the Contest is your own original work, and agreed that it can be published in public media at the organizers' discretion.
Prizes:
First prize: One winner will receive 6000 yuan or gift with same value
Second prize: Two winners will receive 4000 yuan or gift with same value
Third prize: Three winners will receive 2000 yuan or gift with same value
Fourth prize: several winners will win souvenirs
Organizers:
1.Shanghai People's Association for Friendship with Foreign Countries
2.Shanghai Municipal Administration of Culture and Tourism
3.Shanghai Library
Co-organizer:
Shanghai Daily
Source: Shanghai Daily