Jiande City makes special offer to Shanghai tourists
2020-08-12
Jiande summer scenery
Jiande scenery
Shanghai residents are being invited to Jiande City in neighboring Zhejiang Province, where they can enjoy free admission to major attractions, cultural and tourism authorities from Jiande announced in Shanghai.
Tourists from Shanghai can enjoy free entry to eight attractions such as the Daci Cliff scenic area, Lingxi Cave, Meicheng ancient town and Xinye ancient village in Jiande on the 17th day of each month through July 17, 2021, the Jiande City Culture, Radio, Film and Television, Tourism and Sports Administration announced in Shanghai on Monday.
Also on the 17th day of each month, a variety of love-themed activities such as matchmaking events will be held in the city to develop it into a romantic destination in the Yangtze River Delta region, the administration said.
Jiande scenery
The city government of Jiande has released a number of tourism policies such as rewards for travel agencies to beef up the city's tourism industry and night tourism economy as the COVID-19 pandemic wanes.
Three tourist routes connecting attractions in the city such as the Xin'an River Hydroelectric Station, Hulu Canyon rafting, Lingxi Cave and the Shouchang ancient town night market were also unveiled in Shanghai.
The city government further seeks investment in Shanghai on tourism projects, while travel agencies of the two cities inked strategic cooperation agreements.

Jiande brings local performances to Shanghai to lure tourists.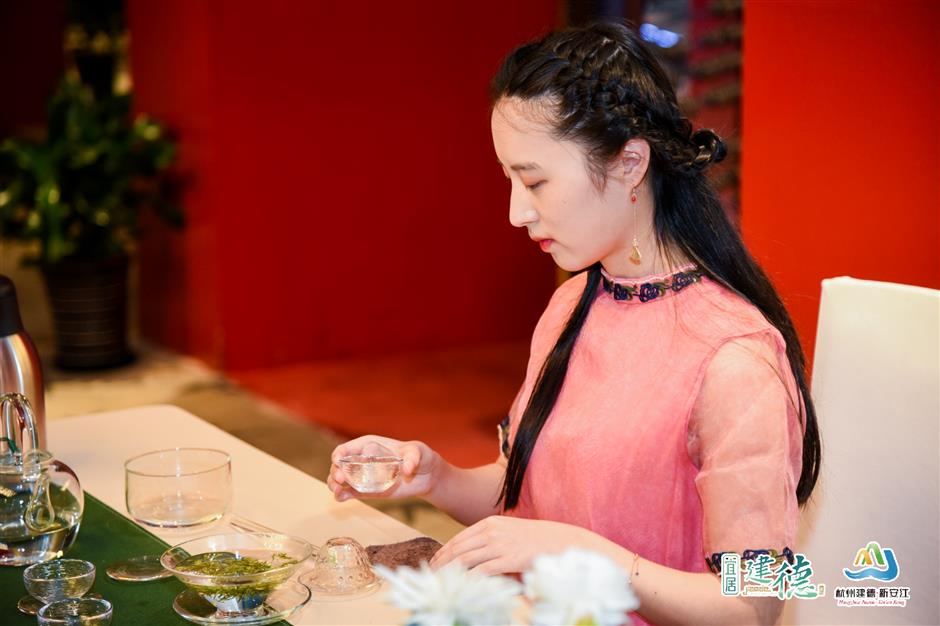 A tea ceremony is held to attract Shanghai tourists.
Jiande is located at the confluence of the Xin'an, Fuchun and Lanjiang rivers. Its Qiliyangfan scenic area, located within the Fuchun River National Forest Park, is considered the most beautiful section of the river.
Xinye Village is a "living museum" of folk architecture, with a history dating back to the Ming Dynasty (1368-1644).
Source: SHINE
Editor: Cai Wenjun