Shanghai Zoo puts on birthday treats for panda He Feng
2020-08-09
He Feng enjoys birthday ices.
He Feng greets zoo visitors.
A special birthday party was staged at Shanghai Zoo in Changning District on Sunday for its star resident He Feng, a giant panda who arrived a year ago.
He Feng, born on August 9, 2016, is nicknamed "White Socks" because he has white hair on both toes.
Keepers say he is naughty and energetic, and sometimes gets into fights, earning him the title "Mad He."
"He Feng weighs more than 50 kilograms now thanks to good care, and he is a real 'foodie' who always rushes to his keepers once snacks are ready," said Pan Xiuwen, a zoo employee.
He is good at peeling bamboo shoots as well.
He Feng greets visitors.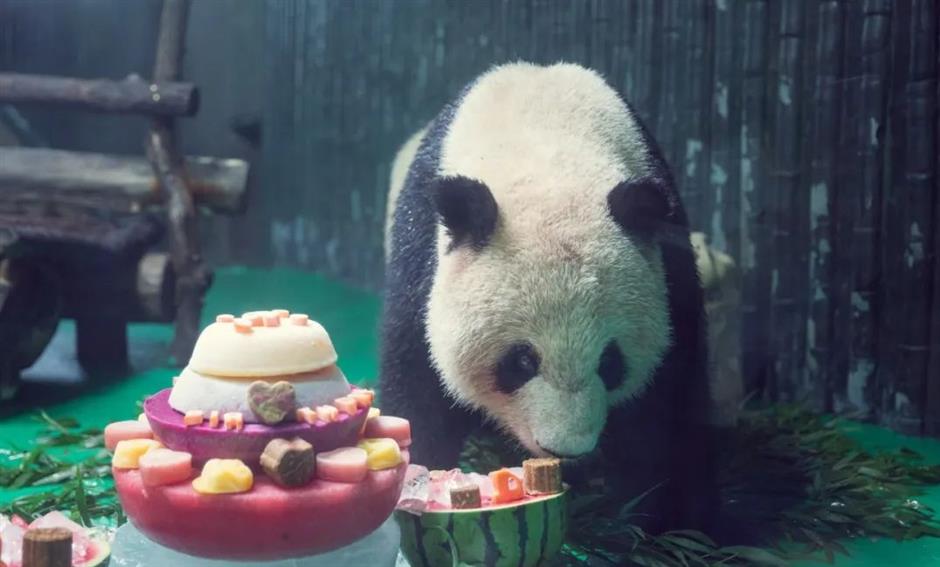 He Feng samples the delights.
Zoo workers and volunteers made a cute and colorful decoration for the party.
A sumptuous banquet including a three-layer cake made of watermelon, pitaya and orange, and decorated with carrot and wotou (a kind of steamed bun of corn or sorghum) was prepared for the furry birthday boy.
The cake was paved with bamboo leaves and ice.
He Feng, from Chengdu in southwest China's Sichuan Province, arrived at the zoo with Xing Guang, a 4-year-old giant panda, in June last year.
Xing Guang is nicknamed "Bugs Bunny" because of his signature front teeth.
They are good friends and stay together all the time, zoo keepers said.

A zoo keeper prepares the feast for He Feng's birthday.
Children help prepare treats.
A zoo worker with a birthday balloon.
Source: SHINE
Editor: Cai Wenjun