Shanghai Botanical Garden breaks ground on new expansion
2020-08-06
Rendering of Shanghai Botanical Garden's northern expansion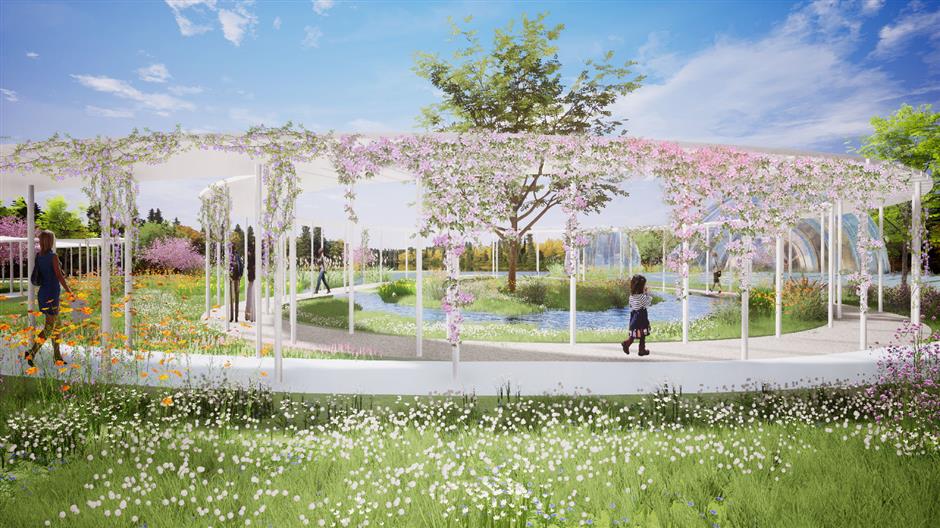 Construction on the northern expansion of Shanghai Botanical Garden in Xuhui District kicked off today, featuring more than 10 new gardens and 3,000 new varieties of plants.
The project covers more than 22 hectares and will be completed in two years.
It runs from Longwu Road in the east, reaching Panjiatang River in the west and Luocheng Road in the north, bordering Zhangjiatang port in the south.
The expansion will feature flower island, flower valley, flower brook, flower corridor, flower hill and flower bridge, and will feature different plants in different seasons.
"The terrain, landforms, varieties and display of the plants in the new north area of the garden will be very different from the current south area," said Tong Libing, deputy director of the botanical garden.
Rendering of Shanghai Botanical Garden's northern expansion
The main sightseeing area will have four sections: brook and valley, green hill, forest and lake. More than 10 gardens featuring rock plants, vine flowers and flower bridges will be created. There will also be a Mediterranean-style garden.
"We will introduce some plants that are not commonly seen in the city, and there will be two greenhouses – a butterfly greenhouse and a frigid zone plant greenhouse," said Tong.
"Visitors will be accompanied by butterflies while exploring the greenhouse's magic plant world, and see different plants in different seasons at another greenhouse," he said.
The botanical garden came together in 1974 and currently covers 81 hectares with more than 7,000 varieties of plants; the expansion will increase that number by more than 3,000.
Rendering of Shanghai Botanical Garden's northern expansion
Construction of the project kicked off today.
The expansion includes a 29,000-square-meter artificial lake and two footpaths of different heights, enabling visitors to appreciate flowers, plants and aquatic animals from different angles.
"One footpath will enable visitors to look down at plants, while the other around the lake will provide a close vantage point to view aquatic animals and plants, creating an immersive natural experience for visitors," said Tong.
There will also be a children's activity space.
"We will host activities like DIY and flower arrangements for children in the activity space," said Tong.
Supporting facilities, such as a visitor service center, horticulture display, and parking lot, will also be built. Luocheng Road, location of one of the garden's entrance gates, will be broadened to ease traffic.
The project also includes a scientific research area.
Construction of the project begins today.
Source: SHINE
Editor: Yang Meiping