Wenzhou puts on a feast for the festival
2020-09-22
Shanghai and Wenzhou officials kick off the promotion on Monday.
Two expats give a thumbs up to Wenzhou cuisine.
Wenzhou in neighboring Zhejiang Province is cooking up a sumptuous feast in Shanghai as part of the ongoing Shanghai Tourism Festival to add some culinary fun to the event.
The city will showcase it signature cuisine and snacks, share stories of its delicacies and promote its food culture from Monday to October 6 in Shanghai.
Webcasts were held with chefs from Wenzhou displaying their skills in yellow croaker cooking on Monday night.
Wenzhou crabs on display in Shanghai
Wenzhou cooks up a feast in Shanghai.
Through October 6, authentic Wenzhou cuisine will be served at the Yangtze Boutique Shanghai in Huangpu District.
Wenzhou is known for its seafood. Originally known as Ou cuisine, Wenzhou cuisine is one of the four most representative cuisines in Zhejiang Province together with Hangzhou, Ningbo and Shaoxing.
The city boasts its own unique culinary traditions.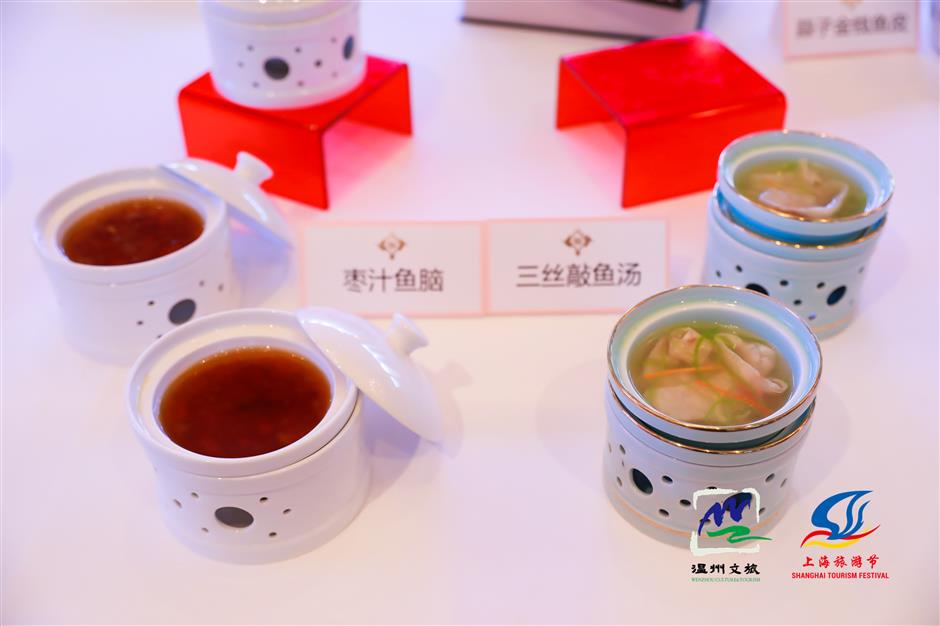 Some Wenzhou delicacies on display.
Wenzhou is known for its yellow croaker dishes.
Wenzhou is known for its fish and other local ingredients. Yellow croaker, shrimp, crab and oysters have been staples of the Wenzhou diet for hundreds of years.
The Ou cuisine looks beautiful as well due to its exquisite slicing techniques.
Fish ball soup, steamed yellow croaker and liquor-saturated crab are some typical city dishes.
As a sub-venue of the Shanghai Tourism Festival, Wenzhou is also hosting activities such as the 2020 Yangtze River Delta region food culture week, Nanxi River recreational vehicle camping and eSports activities, a Nanxi River music carnival and a Yandang Mountain bazaar.
Source: SHINE
Editor: Cai Wenjun