World Expo history on show in Shanghai
2019-12-12
A visitor examines documents related to the history of the World Expo.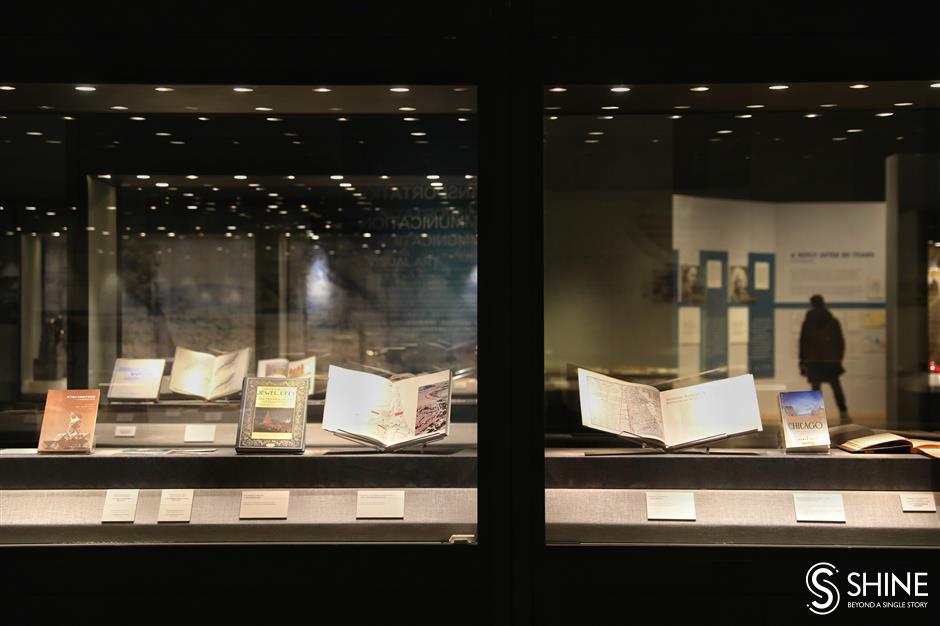 Documents related to the World Expo are on display at the World Expo Museum in Huangpu District.
An exhibition that opened at the World Expo Museum in Huangpu District on Wednesday features around 300 exhibits recording the 168-year history of the event.
"Read the World — Exhibition of Expo Historical Documentations" has four sections — Expos Described by Pens, Expos in Painting and Crafts, Art Across the Globe, and Composing the Future.
It includes reports, awards, certificates, newspapers, journals, design sketches and novels related to the event in many languages.
"The display traces the history of the World Expo and provides a wide range and different aspects of the expo," said Vicente Gonzalez Loscertales, secretary general of the Bureau of International Expositions.
The exhibits include 3D Expo 1862, a book with 3D Expo images, a perfecscope for viewing stereographs in the 19th century, a paper peepshow dating back to the 19th century, a series of prints of Crystal Palace (the building that housed the 1851 Great Exhibition), Crystal Palace cigarette cards issued by a British cigarette maker in 1937, the certificate of appointment of the advisory committee of the Louisiana Purchase Exposition in 1904, a Crystal Palace Theater advertising leaflet, books with design sketches of Expo pavilions, designers' notes and Le Petit Journal, a popular newspaper which presented colorful engravings of pavilions at the 1900 Expo in Paris, as well as tickets, passports and invitation letters from previous expos.
A wooden fruit platter from the Guinea Pavilion at the 2015 event in Milan, commemorative medals of the 1970 Expo in Osaka, postcards of different expos, an Underwood typewriter, the phototype of the giant typewriter exhibited at the 1915 Expo, and award winning phonographs exhibited in Paris in 1900 and St Louis in 1904, and Tagine, a type of North African cookware from the Morocco Pavilion of the 2015 Milan Expo are also featured.
The New Record of Traveling around the World by Li Gui (1842-1903) in 1878 is also on display.
The Qing Dynasty (1644-1911) government was invited to form a delegation to the 1876 Expo in Philadelphia and customs officials at that time were mostly foreigners. Li, secretary of the deputy commissioner of Ningbo Customs, was the only Chinese person in the delegation. In 1878, Li published the book which was the first detailed Chinese monograph recording the World Expo.
The exhibition will run through February 9. Lectures and concerts will be hosted during the exhibition.
Meanwhile, a library with 100,000 collections will open next year inside the museum.
The museum has valuable collections in 14 languages related to the World Expo dating back to 1831.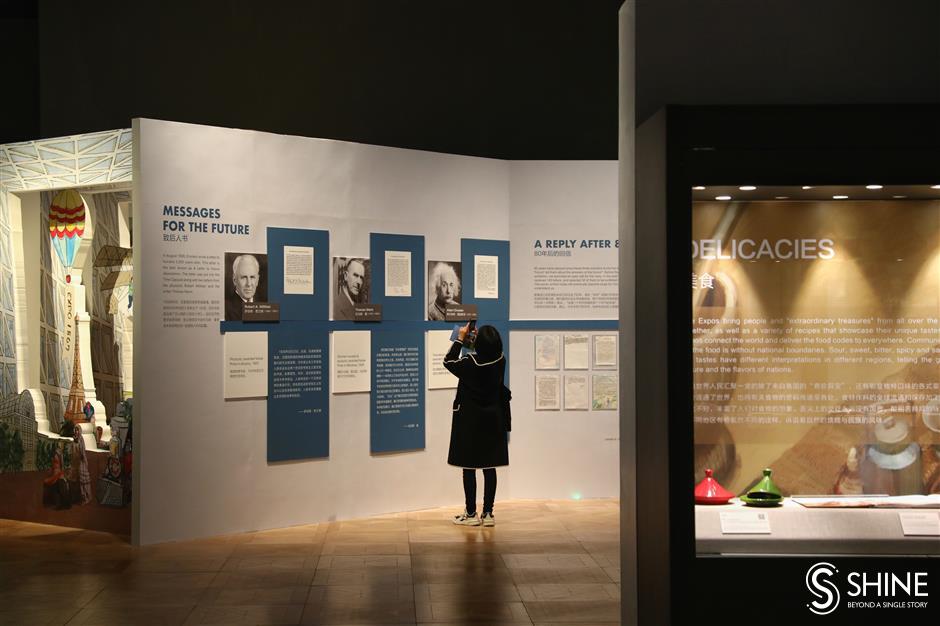 A visitor takes pictures during her visit to the World Expo exhibition.
Source: SHINE
Editor: Cai Wenjun