Now, scan QR code to check lifeguards' qualification at public pools
2019-06-04
Starting this summer, citizens will be able to check the qualification of lifeguards at Shanghai's public swimming pools by scanning a QR code on their licenses. Only lifeguards who have passed appraisals will have all valid information registered.
Shanghai has about 800 public swimming pools which usually open in the hot summer months of July and August. The lifeguards working at the pools must hold a vocational certificate issued by the national sports administration. Local authorities and sports associations are in charge of the annual appraisals.
"Shanghai's swimming pools report about 15 million users every year," said Gong Yiqing, director of the Shanghai Social Sports Management Center. "Lifeguards play a key role in ensuring safe operations of the pools. Sports authorities have created a complete system to regulate the training, appraisal and management of the lifeguards."
By scanning the QR code, one can also get information like the rewards and punishment a lifeguard has received during his or her previous work. The system will root out fake certificates. The Shanghai Swimming Life Saving Association will also send undercover staff to the pools every year to check the qualification of the lifeguards.
Meanwhile, the Shanghai Sports Bureau unveiled an online registration system for swimmers this month. People are being encouraged to make a "health promise" before entering the pool.
Previously, a swimmer was required to buy a "health check card" for 6 yuan (9 US cents) before entering any pool. The card was supposed to cover basic insurance and a health check. However, very few pools provided health checks.
The card will be replaced by online registration starting this year. Swimmers can log onto the registration platform through the bureau's WeChat account "Shanghaitiyu" and provide identity information, and choose whether to buy a 5-yuan, one-year accident insurance.
During registration, swimmers will be required to sign a "health commitment letter" to promise that they do not have a serious heart disease, high blood pressure or a serious skin condition.
They will also be informed of safety regulations. The system relies on people's honesty as there are no punishment for swimmers making false declarations.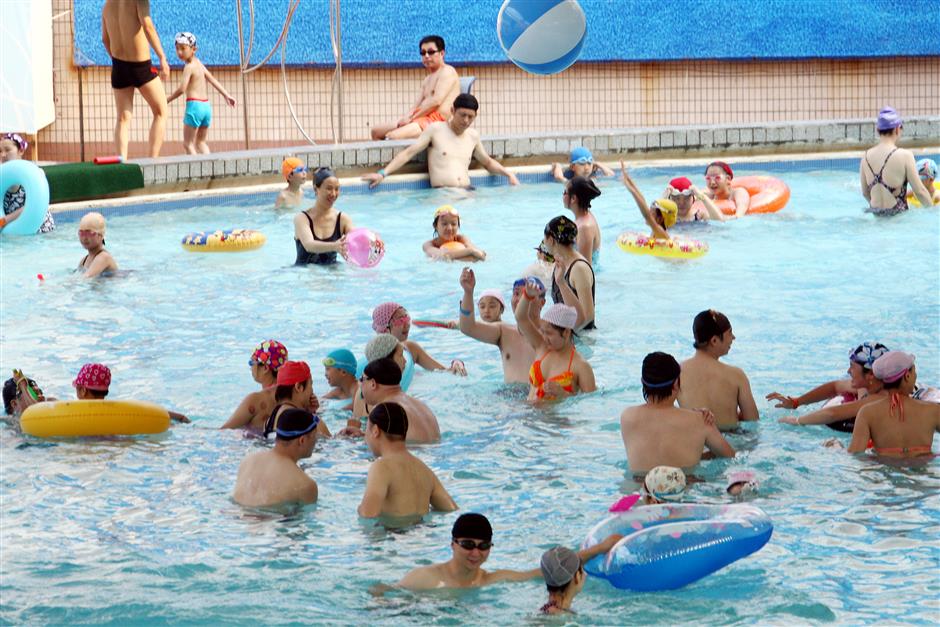 Shanghai has about 800 public swimming pools which usually open in the hot summer months of July and August.
Source: SHINE
Editor: Liu Qi