Shanghai Tower
In April 2016, the construction of Shanghai Tower, the tallest building in China, was completed. Shanghai Tower is often described as a "vertical city".
With a floor area of 578,000 square metres, it is equivalent to the sum of the firstrow buildings covering a total floor area of nearly 600,000 square metres along the 1.5-kilometre Bund. This 127-storey super skyscraper with nine vertical communities has five major functions, namely brand business services, super class A offices, super six-star hotels, sightseeing and culture & entertainment, as well as large-scale events & conferences.
It is a great challenge to build super highrises in Shanghai, since its soft soil layer is more than 280 metres thick and has a high moisture level. Besides, there was no precedent in the world for the construction of ultra-high-rise buildings above 600 metres on soft soil foundations. After rigorous field tests and scientific demonstrations, the engineers of Shanghai Tower, together with leading experts in pile foundation research and construction in China, finally figured out a solution, a foundation system of postgrouted bored piles. They decided to use 1,079 post-grouted bored piles to prop up the main building weighing nearly 1 million tons.
Inside Shanghai Tower, which can accommodate 35,000 people, is a wonderful small world with museums, gardens, etc. A damper using the "electromagnetic principle" has been installed to reduce the impact of strong winds on the building, and inside the damper there is a space dubbed "Shanghai Eye", where artists from home and abroad can present small performances or exhibitions.
Shanghai Tower, the highest building in Shanghai, adopts more than 40 green technologies in its design. For example, wind turbines are installed to make use of the wind force, with an average speed of 8-10 metres per second, on the roof; the rainwater on the buildings is collected and put into effective use; and LED solid-state lighting, with an energy saving rate of about 54 percent, can reduce carbon emission by 25,000 tons per year. This green and environmentally friendly building has won numerous international or national awards and certifications.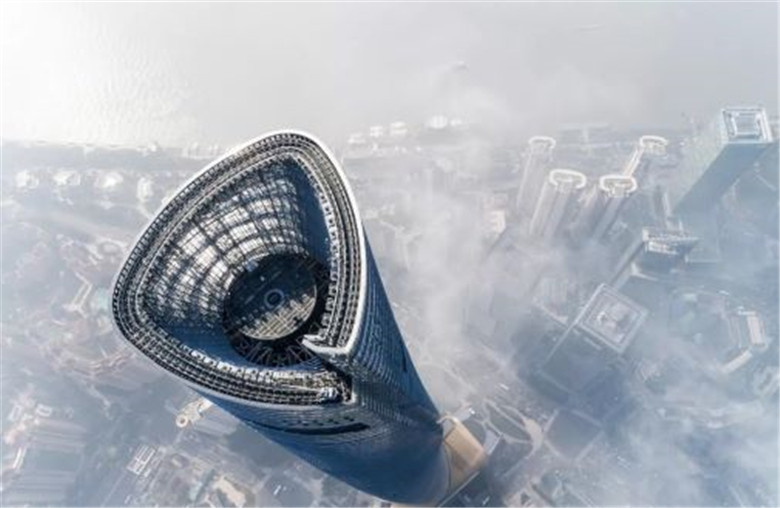 On the 52nd floor of Shanghai Tower is a flagship store of Duoyun Books, where visitors can "look up to watch the clouds wander by and look down to read books". Situated at a height of 239 metres, it is currently the highest commercial bookstore in China and an important new cultural landmark in Shanghai.
Shanghai Tower is a striking new addition to the skyline of the city; it was declared one of the 2019 Top 10 Landmark Buildings in Shanghai.